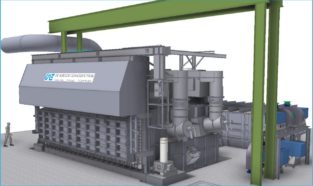 Constellium places order with De Winter to supply melting and casting furnace
Constellium is a leading provider of value-added aluminium products. Its Issoire (France) manufacturing plant is a major site of Constellium's Aerospace and Transportation division.
De Winter designs and constructs melting and holding furnaces – always customized to meet particular situations or customer demands.
In order to modernize and upgrade its molten aluminium processing line, Constellium Issoire has placed an order with De Winter to supply a tilting melting furnace having an enhanced melting rate as well as a tilting holding furnace.